---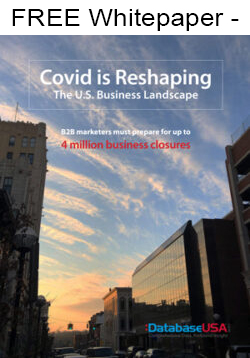 Covid is Reshaping
the U.S. Business Landscape
B2B marketers must prepare for
up to 4 million business closures
For B2B marketers, data has never been more essential. Staying on top of business closures and openings could be the difference between securing a deal and wasting valuable resources. This has become even more difficult with the novel coronavirus and its impact on the U.S. business landscape through shutdowns and patchy restarts.
FREE Whitepaper – Fill out the form to receive your Free Whitepaper download link ➨➨
Is There a Silver Lining?
Luckily, there are still over 50,000 new business formations across the U.S. every week, and nearly a million commercial businesses in the last five months!
Businesses continue to adapt to the post-Covid environment.
Types of New Businesses Formed in the Last 5 Months:
Building Cleaning & Maintenance Services
Individual & Family Social Services
Health Practitioners
Home Health Care Services

Beauty Salons
Real Estate Agents
Accounting, Auditing & Bookkeeping Services
Tax Return Preparation Services
To discuss your current needs and how DatabaseUSA can bring value to your company moving forward: Call 877.418.0101