We not only offer big data,
we offer the most accurate data.

There is a lot of buzz about "big data".  But "big data" is trash unless it is accurate data.  In 2016, the estimated cost of bad data to U.S. companies was $3.1 trillion, according to IBM.  What you need are accurate data "nuggets."
At DatabaseUSA.com we spend millions of dollars, we make millions of phone calls and we use hundreds of sources to make sure that we not only offer "big data", but that we have the most accurate data "nuggets" available.  Our business database is 95% accurate and is better than anyone else in the market.  If you don't believe me, try 500 names for free.
All of our employees are USA based and we don't outsource any of our compilation methods to any foreign country.  We hope you will give us a try and test our data.  You will find it to be the most accurate.
If you have any questions, please don't hesitate to email me at vingupta2000@gmail.com, or leave me a message at 402.537.3000.  I will personally respond to your inquiry.
Letter from the President
Letter sent from The White House on September 22, 1998.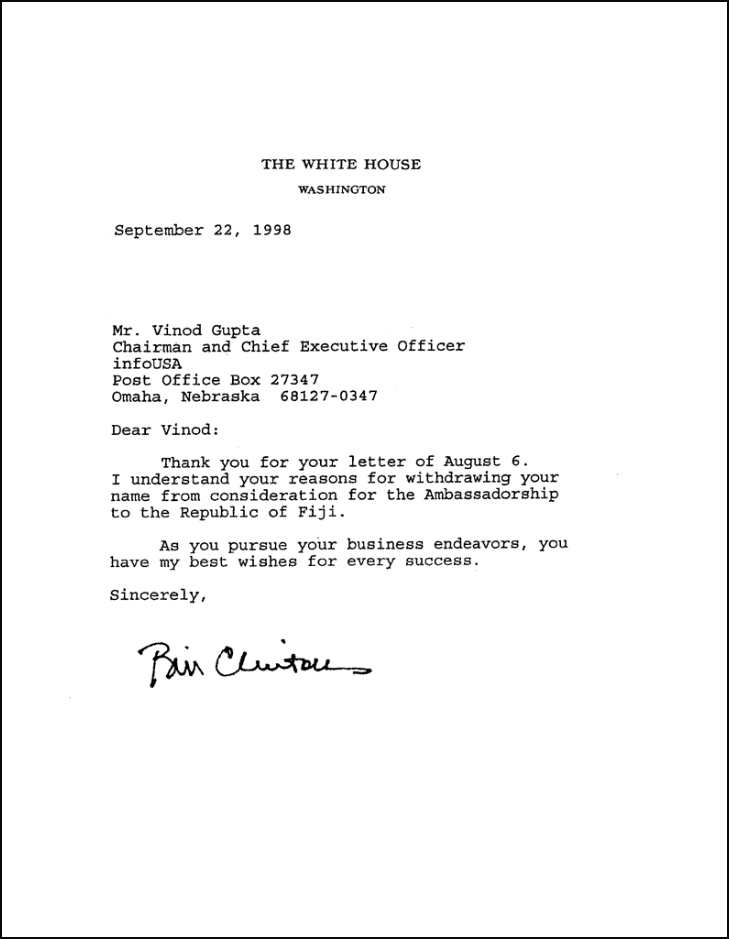 Vinod Gupta
Chairman and Chief Executive Officer
Omaha, NE 68127
Dear Vinod:
Thank you for your letter of August 6. I understand your reasons for withdrawing your name from consideration for the Ambassadorship to the Republic of Fiji.
As you pursue your business endeavors, you have my best wishes for every success.
Sincerely,
Bill Clinton